Representative Caitlin Puzzar was interviewed by the Mainichi newspaper! The contents are listed below.          ※Permission for publication has been obtained from Mainichi newspaper.
Caitlin Puzzar, co-founder of Guardian – an app that protects children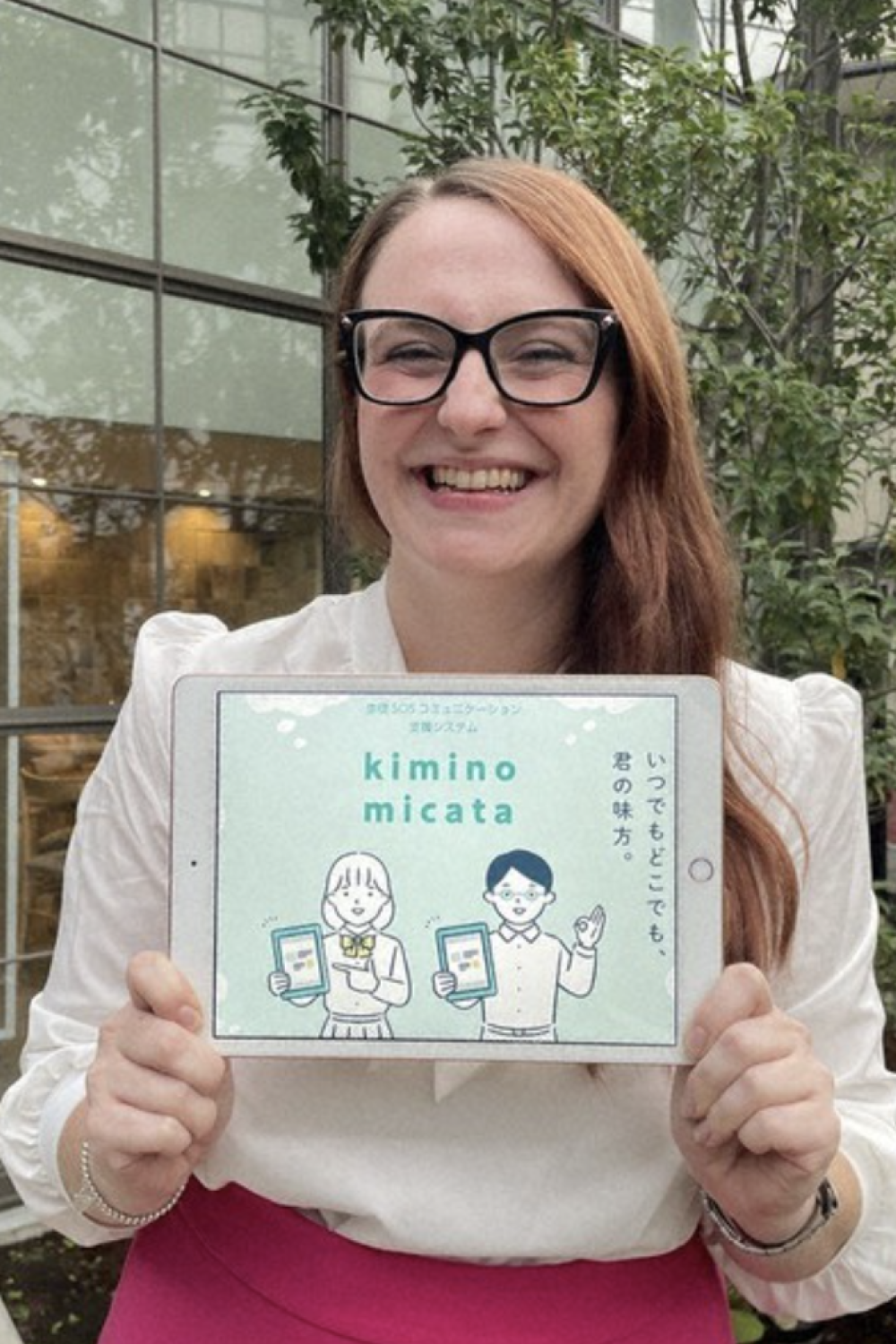 "When I was working at an elementary school as an assistant language teacher (ALT), I was surprised to see questionnaires about bullying answered by children sitting in random places.. "
Caitlin Puzzar (28) – co-creator of kimino micata, an app for elementary, junior high, and high school students that draws out children's "SOS" regarding bullying, abuse, and other forms of harassment.
Puzzar, who grew up in Liverpool, U.K., and studied criminology at university, taught English at schools in Kumamoto for six years. "In 2019 there was a child abuse death in Chiba Prefecture. When I saw that news, I wondered what I could do to help" she recalled. 
In the U.K. personal information is managed quite strictly. So, are Japanese staff rooms able to thoroughly protect personal information? Is there a questionnaire that would reduce the workload of teachers and make it easier for children to answer?
At a workshop held in Kumamoto Prefecture by JSIE, an organization that supports women and youth, Puzzar presented her idea for an application that would allow children who are being bullied or abused to express their true feelings. In 2022, she moved from Kumamoto to Kyoto with the support of Phoenixi (Kyoto City), a company that fosters entrepreneurial talent.
The kimino micata application was adopted by the Kumamoto City Board of Education, and its effectiveness was recognized through a series of demonstration tests conducted at three elementary schools since 2021. It can be accessed through tablet terminals used in educational settings.
The children select their current state of mind from six options, ranging from "happy" to "painfully sad" in the questionnaire. In addition, they are asked 10 to 20 other questions that vary by grade level, such as "I have no appetite," "I was ignored by everyone," "My money or things were taken from me," and "Someone in my family washes my dirty clothes."
Based on an analysis of the answers, the school is given a "red," "orange," or "yellow" warning level to indicate whether the student is being bullied or abused. There is also a SOS consultation button for students to write down their concerns in details, and an option to only tell the school nurse about topics that you do not want the male teachers to know about.
"I always wanted to become a police officer to protect children. After my experience as an ALT, protecting children through this app became my new dream." said Puzzar, whose parents are both police officers. 
In March 2011, the Ministry of Health, Labor and Welfare and the National Police Agency announced that the number of suicides among elementary, junior high and high school students in 2010 was 514. This was the highest number ever recorded in the survey since 1980. Problems at school and at home accounted for most of the causes and motives.
A system to recognize "children's SOS" started in Kumamoto and Kyoto. We hope that this system will spread to many schools and save as many unhappy children as possible.