Guardian Inc. is now running a "up to three months free" campaign, to celebrate the publication of our advertisement in the Kyoiku Shimbun. Organizations and schools who apply for installation of the system in FY 24 (April 2023 ~ March 2025) will receive up to three months free use between January and March 2024.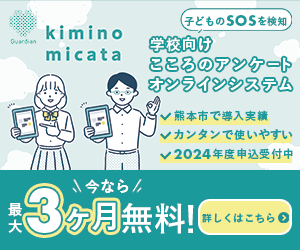 kimino micata is currently being introduced in elementary and junior high schools in Kumamoto City. It is being used as a support tool to address children's concerns and work towards solutions. For more information, see the kimino micata page.、
kimino micat
a fee structure
1.Initial introduction fee 100,000 yen
  Registration of users and students
      Setting up the type of online questionnaire, based on the usage environment of each
      education department or school where the system will be introduced.
      Guidance for teachers on how to use the system and demonstrations will be provided.
      This initial installation fee is only incurred once when a new application is made. There is no 
      charge for subsequent subscriptions.

2.Annual subscription contract
  The price is based on the number of pupils in the school.
      The annual subscription fee is 1,200 yen per student.
      The number of students based on the total as of mid-April of the new school year (mid-
      September for international schools)
      The fee varies depending on the size of the group or school, so please contact us 
      for more information.
3.What is included?
  Provision of manuals and tutorial videos on how to use the system
     On-site set-up and regular meetings with teachers at the introducing school.
     Based on each situation, we will adjust settings etc. to create an environment that matches
     each organization/school.
     A help desk will be available to provide assistance, and share tips on how to best make use
     of the system.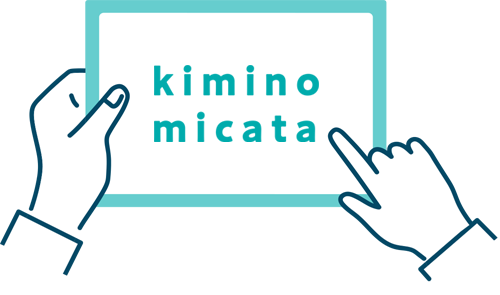 Campaign details:
Application period: Autumn 2023 to the end of January 2024.
Benefits: Up to three months free of charge (from January 2024 to the
end of March 2024).
Conditions: Annual contract starting from FY24 April (costs estimated
and incurred when applying).
Initial installation set-up fee: ¥100,000.
If
you apply for an annual contract for FY2024 now, you will receive up to three
months free usage between January and March 2024. The period between January
and March includes the set-up period (about one month). For example, if you
apply before January 2024, once set-up is completed, February-March 2024 will
be free of charge.
Please apply as soon as possible. For more information, please contact us and mention "new application campaign".
 To find out more about kimino micata, click here.